Telecommunicatie power battery (CFP21000, 2v, 1000Ah)
FirstPower biedt u niet alleen betrouwbare batterij en technologie, maar ook uitstekende services en echte waarde die u mag verwachten en genieten. We verwelkomen bestellingen met het merk "FirstPower"; We zijn ook flexibel om bestellingen op OEM-basis te accepteren. Contacteer ons nu! Uw partnerschap met FirstPower zal het waardig zijn.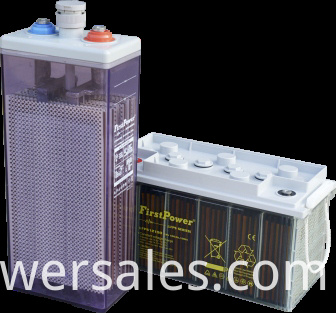 Internationale certificeringen:
ISO9001-goedkeuring, FN: Q3105105131
ISO14001 CTC04912E10302ROM
OHS MS18001 04912S10150ROM
UL-goedkeuring, FN: MH28204
CE-goedkeuring, FN: G2M20201-0102-D-16
KS goedkeuring, FN: KS C 8519
VDS-goedkeuring
Goedkeuring van BS
Algemene kenmerken van de batterij van de CFP-serie
Nonspillable
Gesloten en onderhoudsvrije werking
Hoge kwaliteit en hoge betrouwbaarheid
Uitzonderlijk herstel van diep ontladen
Lage zelfontlading
Lange levensduur
Massieve koperklemmen
Tankvormige platen
Computerondersteund ontwerp en productie
UL, CE, VdS goedgekeurd
typische applicaties
Telecommunicatieapparatuur
Elektronische instrumenten
Brandalarm
Beveiligings apparaten
UPS voeding
Noodverlichting
bestek
Nominal Voltage
2 V
Capacity
(25ºC)
10HR(1.80V)
1000 Ah
3HR(1.75V)
765Ah
1HR(1.75V)
565Ah
Dimension
Length
475±2mm (18.70inch)
Width
175±2mm (6.89inch)
Height
330±2mm (12.99inch)
Total Height
367±2mm (14.45inch)
Approx. Weight
61kg (134.5lbs)±3%
Terminal type
T10
Internal resistance
(Fully charged, 25ºC)
Approx. 0.28mΩ
Capacity affected by temperature (10HR)
40ºC
102%
25ºC
100%
0ºC
85%
-15ºC
65%
Self-discharge
(25ºC)
3 month
Remaining Capacity: 91%
6 month
Remaining Capacity: 82%
12 month
Remaining Capacity: 65%
Nominal operating temperature
25ºC±3ºC(77ºF±5ºF)
Operating temperature range
Discharge
-15ºC~50ºC(5ºF~122ºF)
Charge
-10ºC~50ºC(14ºF~122ºF)
Storage
-20ºC~50ºC(-4ºF~122ºF)
Float charging voltage(25ºC)
2.25 to 2.30V
Temperature compensation:
-3mV/ºC
Cyclic charging voltage(25ºC)
2.42 to 2.48V
Temperature compensation:
-5mV/ºC
Maximum charging current
200A
Terminal material
Copper
Maximum discharge current
7500A(5 sec.)
Designed floating life(20ºC)
20 years
Absorberende glasmattechnologie;
Erkend door UL & CE;
ABS-container.
Dimensies
Terminal: M8
Constante stroomafvoereigenschappen (A, 25ºC)
| | | | | | | | | | | | |
| --- | --- | --- | --- | --- | --- | --- | --- | --- | --- | --- | --- |
| F.V/TIME | 30min | 60min | 2h | 3h | 4h | 5h | 6h | 8h | 10h | 20h | 24h |
| 1.60V | 900 | 600 | 365 | 260 | 209 | 182 | 156 | 122 | 102 | 53.4 | 46.3 |
| 1.65V | 882 | 591 | 363 | 259 | 208 | 180 | 155 | 122 | 102 | 53.3 | 46.2 |
| 1.70V | 855 | 576 | 360 | 257 | 206 | 179 | 154 | 121 | 101 | 53.2 | 46.1 |
| 1.75V | 834 | 565 | 355 | 255 | 205 | 178 | 153 | 120 | 101 | 52.9 | 45.8 |
| 1.80V | 804 | 547 | 346 | 247 | 199 | 173 | 148 | 116 | 100 | 52.5 | 45.5 |
Constant Power Discharge-kenmerken (Watt, 25ºC)
| | | | | | | | | | | | |
| --- | --- | --- | --- | --- | --- | --- | --- | --- | --- | --- | --- |
| F.V/TIME | 30min | 60min | 2h | 3h | 4h | 5h | 6h | 8h | 10h | 20h | 24h |
| 1.60V | 1683 | 1140 | 705 | 510 | 410 | 358 | 307 | 244 | 203 | 107 | 93.1 |
| 1.65V | 1649 | 1123 | 701 | 507 | 407 | 356 | 306 | 242 | 202 | 107 | 92.9 |
| 1.70V | 1599 | 1094 | 695 | 503 | 405 | 353 | 304 | 240 | 202 | 106 | 92.6 |
| 1.75V | 1560 | 1073 | 684 | 500 | 402 | 351 | 301 | 239 | 200 | 106 | 92.1 |
| 1.80V | 1503 | 1040 | 667 | 485 | 390 | 340 | 292 | 232 | 199 | 105 | 91.5 |
Opmerking: de bovenstaande kenmerken kunnen worden verkregen binnen drie laad / ontlaadcycli
Product Categorie : Netwerk Power/Reserve batterij > Standaardserie batterij